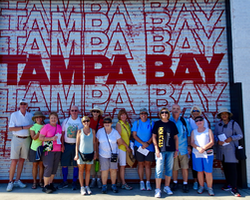 The Suncoast Sandpipers has about 150 members and offers several types of memberships. The club offers a variety of year round events which can be walked at any time and scheduled events which draw large numbers of walkers as well as organized group walks which attract dozens of members. We have two general membership meetings a year. The club president is Alice Lawrence. If you would like to join the Sandpipers, follow the instructions on our Join us page.
As you might guess, Volksmarches or "people's walks" originated in Germany. The number of events held throughout Europe are incredible and include almost every country. People there will routinely do several 20K walks a day each weekend day. American service members brought the sport home with them and, while we do not have quite the scope of European events, there are plenty of activities throughout the U.S. and Canada.
U.S. events are most often walks, non-competitive, leisurely, on a pre-planned, circuitous route, usually 6.2 miles (10K) or 3.1 (5K), through a scenic or historic area. Most are held on weekends. Volkssports also include biking, cross-country skiing, and swimming events. Some routes are accessible to wheelchair users.
The AVA organization
The American Volkssport Association (AVA) is headquartered in Texas and is the parent organization for about 350 clubs throughout the U.S. The AVA is a member of the IVV - the Internationaler Volkssportverband - the founding organization that began in Germany in the 1960s.
Officers
President
Alice Lawrence
727-595-2173
pipers at tampabay dot rr dot com

Vice president
Robin Kelly
727-786-6694
ekelly1.2 at verizon dot net

Secretary
Lorraine Huffaker
727-484-6628
huffaker09703 at yahoo dot com

Treasurer
Diantha Schear
727-595-1298
rf7dmst at gmail dot com

Member at large
Hilda Carter
727-397-3295
hildafreiberger at yahoo dot com